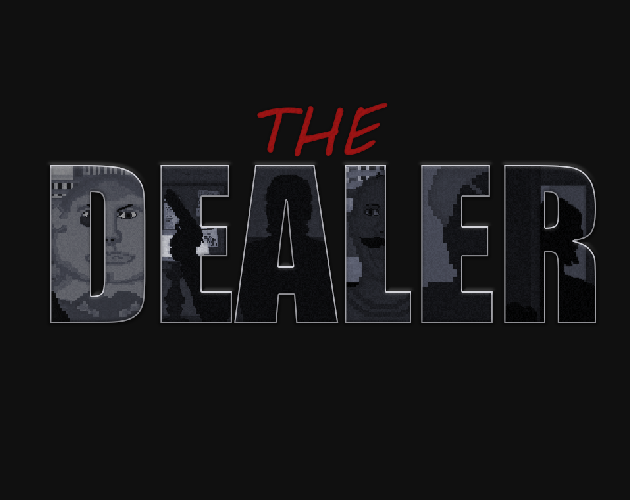 The Dealer
A downloadable game for Windows, macOS, and Linux
Winterfield, Michigan. Year 2020. The crime rate and corruption level are at record high. November Massacre riots crippled the city. The mayor and city council are nothing, but puppets for the mob which took over the city. Police barely exists because of massive budget cuts, those who remained basically live on bribes. People are just trying to survive here as things in the city get worse and worse...
The Dealer is a point & click dialogue driven game where you play as a street dealer in Winterfield, the most troubled city in the fictional version of the United States, set against catastrophic economic and political situation, and looming civil war. After losing poker game with the local mob boss, Jack Coin, you are given 10 days to get 10000$, otherwise you are dead. Left without job because of mass layoffs in the city and blacklisted from every bank and credit service out there, your only choice is to ask your shady friend, Lenny, for help. With his support, you have to dive deep into the world of spontaneous trade in order to survive. You need to sell everything you can get, from bottle caps to drugs and guns, to different strangers; face hard moral decisions; avoid cops and dangerous customers; pay the rent; and also deal with the increasingly difficult political situation in the country that directly affects both your life and the city.

Story Mode. You have 10 days to get 10000$. You need to sell everything you can get to different strangers, avoid cops and pay the rent in order to survive as the whole city descends to this bizzare version of urban hell. Early Access version includes first 4 days of Story Mode.
Survival Mode. Survive as long as you can in the increasingly challenging and hostile environment. Unlike Story Mode, this mode takes place in 2019, a year before the election, it differs in content and all its events are randomized, not scripted.
Dialogue System with a wide variety of interactions and potential choices. Mix of scripted and non-scripted dialogues.
Morality System. The way you treat customers affects both gameplay and game's ending, sometimes in unexpected ways.
Political Events System. One of the core features of the game that makes it more diverse and increasingly challenging. Every day Winterfield Daily newspaper headlines and Fred Tomato TV propaganda directly affect dialogues, prices, bribes, your rent and which item is legal or not. They also tell you news about game's world and reflect some choices you make. Newspaper headlines and TV propaganda are scripted in Story Mode, but randomized in Survival Mode.
Dynamic Play Style. You can play it really slowly, you can play it like a speedrunner or balance between these two.
Many different characters, both procedural and handmade.
Lots of different items with 3 levels of rarity.
Dark humor.
Multiple endings. (will be available in full release)
Developed by one person.
You can sell bottle caps for 100$ to not very bright customers the power of conviction!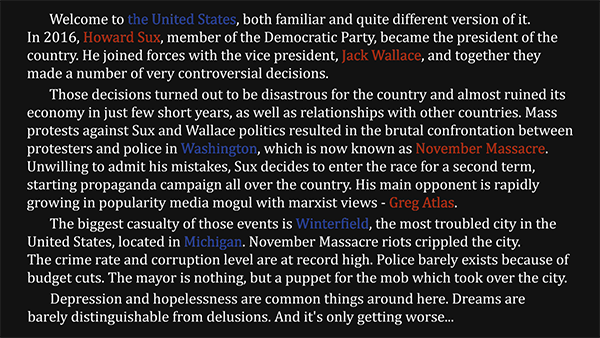 Purchase
In order to download this game you must purchase it at or above the minimum price of $6.99 USD. You will get access to the following files:
The Dealer 0.44 - Windows - 64 bit.zip
56 MB
The Dealer 0.44 - Windows - 32 bit.zip
54 MB
The Dealer 0.44 - Mac OS X.zip
56 MB
The Dealer 0.44 - Linux.zip
57 MB